Post by keithgtir on Apr 13, 2010 11:32:23 GMT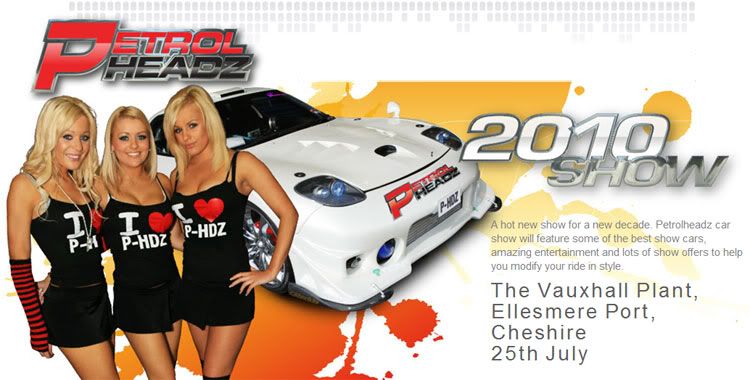 PetrolHeadz Show is Cheshire's brand new car show dedicated to car performance, modifications, passion for driving, cruisers, advanced driver training, hot girls and more.
Expect an awesome day of modified motors on show from all over the country. Some of the Best Show cars and car clubs will be showing off their rides, giving you bags of modding ideas and inspiration. Check out our trade area and put those ideas in to action with exhibitors offering you the best deals anywhere.

Club cars receive space to show their club to their best ability. Get together, meet your mates & have a great day out. In 2010 there is an area for everyone. Clubs need to book a minimum of 5 cars.
Driver & Passenger Tickets @ just £10 per person
Email info@petrolheadzshow.co.uk or call 08444 151413 for your club booking form
Do you have a great car you want to show off?
To enter the Autoglym Best in Show Competition just email info@petrolheadzshow.co.uk for an application form. Please include your name and Address or call 08444 151413

If you don't want to enter the Autoglym Best in Show Competition but still want to show your car there will be a Cruise in and show car area just for you.

Jamie Squibb FMX Takes Freestyle Motocross to the Extreme
Freestyle Motocross (FMX) has never been more spectacular than the adrenalin-pumping arena show that is Jamie Squibb FMX performing death-defying stunts and back flips jumping more than 40 feet in the air.
JDM Allstars Exhibition Match
JDM Allstars will be showcasing an exhibition event with a toned down exhibition match.
Also during the day we will be running drift taxis, riding shotgun with a pro drift driver in a professionally built drift car.


EMMA-UK will be bringing their competition to the PetrolHeadz 2010
For more information on how to enter the EMMA-UK competition at PetrolHeadz 2010 please go to EMMA-UK.COM
dBDrag UK is coming to PetrolHeadz Show 2010 and ANYONE can enter! Offering two formats of competition:
Entries are now being taken for the Miss PetrolHeadz Bikini Babe competition.
I'll keep you updated with all that's happening & the latest news. Any questions just pm me or contact the office.
Make sure you join us on Facebook. Click image & join our
Fan Page...
There's something for everyone at PetrolHeadz 2010
For more information or to book tickets Tel: 08444 15 14 13 or go to
www.petrolheadzshow.co.uk